MOULIN A. COUTU FEEDING QUEBEC FAMILIES SINCE 1850
MOULIN A. COUTU
Back in 1850, the famous buckwheat flour mill was powered by water from the Rivière Bayonne in Saint-Félix-de-Valois in the Lanaudière region. Today, it thrives on the fertile soil of La Doré, a small town in the heart of Lac-Saint-Jean where weather conditions are conducive to growing traditional grains.
When Rodrigue Tremblay arrived, Moulin A. Coutu's product line expanded. He developed seed, grain, and organic grain production. He transformed his crops to offer a sophisticated range of stone-milled flours relying on the traditional methods used in 1850.
New owners, Sébastien Michaud and his wife, Karine Harvey are driven by the vision of long-term success for the company in northern, organic, and gluten-free agricultural production. The company has since relocated its mill, optimized its operations, and implemented a gluten-free certification program recognized by
the Canadian Celiac Association. Moulin A. Coutu continued to expand in 2019, acquiring the Cuisine Soleil brand.
We believe that to promote human health, agricultural practices
need to respect environmental health first.

Our production methods are designed to reflect our values insofar as healthy eating and sustainable development are concerned.

The company sits on the plains of Lac-Saint-Jean, and we have access to fresh water and quality air in a harsh northern climate.

Our organic farming methods use a permanent soil cover and green fertilizers to improve structure and microbial activity.

STONE-MILLED FLOUR THE OLD-FASHIONED WAY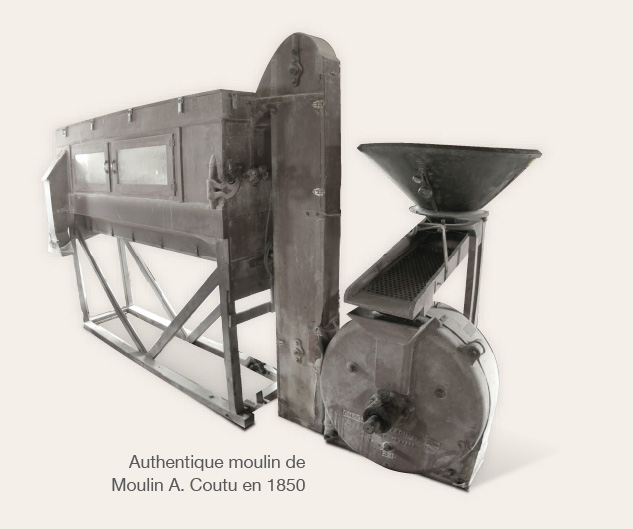 STONE-MILLED FLOUR THE OLD-FASHIONED WAY
Stone-milling consists of crushing the grains between two millstones. "Cold" milling does not overheat the grain, keeping all its components intact. The germ contains almost all of the grain's vitamins and antioxidants. Industrial mills tend to remove this component to extend the product's shelf life at the expense of its nutritional value.
Stone-milled flours provide greater health benefits over industrial flours.