Organic gluten free oat flour, organic millet flour, organic fava bean flour, organic buckwheat flour, homemade baking powder (calcium sulfate, organic tapioca starch, sodium bicarbonate), xanthan gum.
Taste profile : Light and sweet taste
Our muffin mix is inspired by old-fashioned flavours, with a mild hazelnut flavour. In baking, it yields an average rise, has a brown colour and a smooth, dense texture.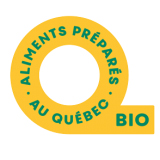 READY-TO-BAKE MIX
SOURCE OF FIBER
ORGANIC
GLUTEN FREE
ALLERGEN FREE (PEANUTS, TREE NUTS, SESAME, MILK, EGGS, SOY, WHEAT, SULFITE, MUSTARD, CORN, LUPINE)